Local young talent isn't hard t(w)o find.
"Sara and Hazel came in 1st and 2nd at the Spiral Gallery postcard show!" A proud Suzanne Milligan tells me. I tell her I'm not surprised though I know she must feel the same (to a modest degree). Her girls, both aged 16, are a talented, driven pair I've had the pleasure of teaching dance to for the past two years. It wasn't until more recently when I learned of Sara's internship with Sydney-based digital studio Animal Logic, however, that I discovered these talents are as diverse as they are stunning.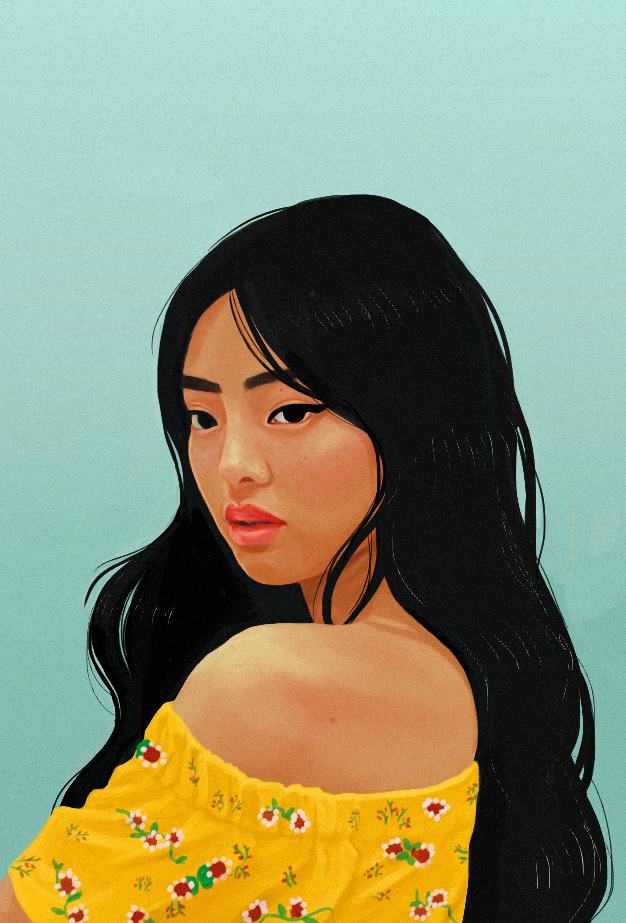 Naturally it wasn't long after that I set the girls to work on a mural at the Funhouse, and soon after that commissioned the pair to draw a profile picture of me that inspired a sense of awe atypical in the social media sphere. And of course, it comes as no surprise that Hazel has been accepted to the same internship program with Animal Logic as her sister, just off the winds of their success at the Spiral Gallery.
These two are a force to be reckoned with, if there was any doubt! I got the chance to ask them a few questions about their work, their inspiration and the challenges of being a young creative in rural NSW. You can find their answers below.
1. How did you get your start drawing?
SARA - I have always been drawing since I could hold a pencil. My mum and my grandpa are and were both very creative so they always encouraged me to draw and create art.
HAZEL - I started drawing when I was in kindergarten or even younger.
2. Who are some of your biggest influences?
SARA - When it comes to influencers we usually are inspired by artists, movies and even Pinterest or Instagram. When it comes to art we get inspired a lot by scrolling through other people's art on Instagram or Pinterest and also by watching movies such as the Lord or the Ring series and especially Studio Ghibli movies. If I was to choose 3 artists that influence me the most from 1-3 it would be Studio Ghibli movies at number 1, Loish (an artist on Instagram) and Kim Jung Gi. There are many more artists on Pinterest that I love but that's my top 3. Studio Ghibli movies are our all time biggest influencer.
HAZEL - My biggest influences are probably studio Ghibli, Japanese artists in general, Tintin and women's World Cup players.
3. What was your experience like working at Animal Logic like?
SARA - My experience with animal logic was super fun, exciting and different. I would spend each day living the city life, taking trains on my own, meeting new and interesting people and learning new things. It was really great to meet people who were interested in the same things as I was and to learn about a career that I had no idea about. By the end of the week I felt very glad to have been able to have that experience.
4. What do you hope to get out of your time at Animal Logic?
HAZEL - I want to see the level of art that is required to work at an animation company and I want to meet professional artists.
5. Where do you girls see yourselves career wise in the next 5 years?
SARA - In the future I see myself working as a professional artist with my own studio and working for myself.
HAZEL - In the next five years I want to be working as a professional artist or doing something else I enjoy, like travelling and learning new languages or something to do with soccer.
6. What are some challenges growing up and trying to be creative in the Bega Valley?
SARA - The main challenge for me with my art was finding places to learn more about art. Because I live in a rural area it's harder to learn everything I'd want to. Also in school it was hard to aspire to be an artist when the school was focused on more "intellectual" subjects such as science and maths.
HAZEL - The biggest challenge is probably the lack of resources for artists at school and also there are not many artists that are the same age as you. Also art is not taken very seriously at school.
7. Finally, what do you think could improve support of young creatives living in the Bega Valley?
SARA - To support young creatives it would be great if schools would prioritise art more and if schools would support artists more. Also having more workshops and art classes for young people would help a lot.


Interested in a arranging a commission with the twins? You can contact them at sara.lu3a@gmail.com.